Library staff were informed of the discovery of asbestos on the third floor of Milne Library. Shortly afterwards, the staff was told that everyone must vacate the building for the next couple of days while further testing was done. Staff gathered their coats and boots, materials needed for the next few days of work, and in the case of our Special Collections Librarian, several boxes worth of archival materials, and trudged to the College Union. For the rest of the day, library staff occupied two conference rooms in the Union and worked. Soon afterward, the library staff learned that Milne..Read more and view photos
Library staff occupied Fraser Hall until a more long-term location on campus was found. In those first few days, library staff scrambled to give direction and provide documentation on alternative sources for print resources that were now locked inside Milne Library.  Library staff had the chance to request that personal belongings and materials necessary for long-term work outside of the library could be retrieved from Milne. Staff members requested that basic materials be retrieved, such as print files and folders, label supplies for books, physical materials that were in process, and materials used for research skills instruction. Staff requested that..Read more and view photos
Library staff worked tirelessly to develop and update research guides for directing patrons to other locations for collections, as well as new methods to contact staff for research consultations and instruction. The Library website was updated daily, sometimes hourly, and a new Milne Project page was created as a central point of contact and information.  Library patrons were directed to contact Wadsworth Library and the Livingston County Historical Society, and make use of interlibrary loan services. Library staff made contact with other libraries in the region that also had teacher education collections to set up borrowing agreements so SUNY Geneseo..Read more and view photos
Within a few days of learning that the asbestos in Milne would result in an indefinite closure of the building, the Library's Leadership Team started touring available spaces to temporarily house library services. One of these spaces was an office suite on the main floor of Sturges Hall. This space was most recently occupied by AOP, who were actively moving to Blake Hall at the time.
In the coming days, additional walkthroughs of the selected space in Sturges took place to plan locations for library staff and services. Of note, the Leadership Team needed to find locations for 25 staff members, the Service Desk, Course Reserve Collection, CIT HelpDesk, Writing Learning Center, Research Help Desk, and the Mail room for shipping / receiving purposes.
While library staff continued to process interlibrary loan requests for electronic journal articles throughout the duration of the Library's closure, the sending and receiving of books and other items for IDS was interrupted. With Fraser being centrally located on campus and without a loading dock, library staff worked with campus Central Stores to coordinate continued shipping and receiving of library materials through the mail. On January 16, 2020, IDS courier services resumed, restoring a vital library service to the campus. Prior to the closure, the Library had employed approximately 60 student workers. The move to a significantly smaller location meant..Read more and view photos
Facilities delivered the entirety of the Library's Reserve Collection (approximately 1,000 books), with the goal of having materials ready for checkout by the first day of classes. This collection was among the highest priority of items to be retrieved from the Library, as this relatively small collection regularly accounted for more than 50% of all physically circulated items.
By the first day of the semester, nearly all library services were operational, and library staff members were moved into their new Sturges offices. While the closure of Milne was deeply upsetting to students, faculty, and staff across the campus, resuming operations in such a short period of time was the result of a truly immense amount of time and effort by library staff, Facilities Services, state contractors, and the campus administration.
With rising concerns about a number of different campus issues at the start of the Spring 2020 semester, SUNY Geneseo Administration held an open forum to hear concerns from students. The Library was represented by Alana Nuth, Milne's Head of Collection Management.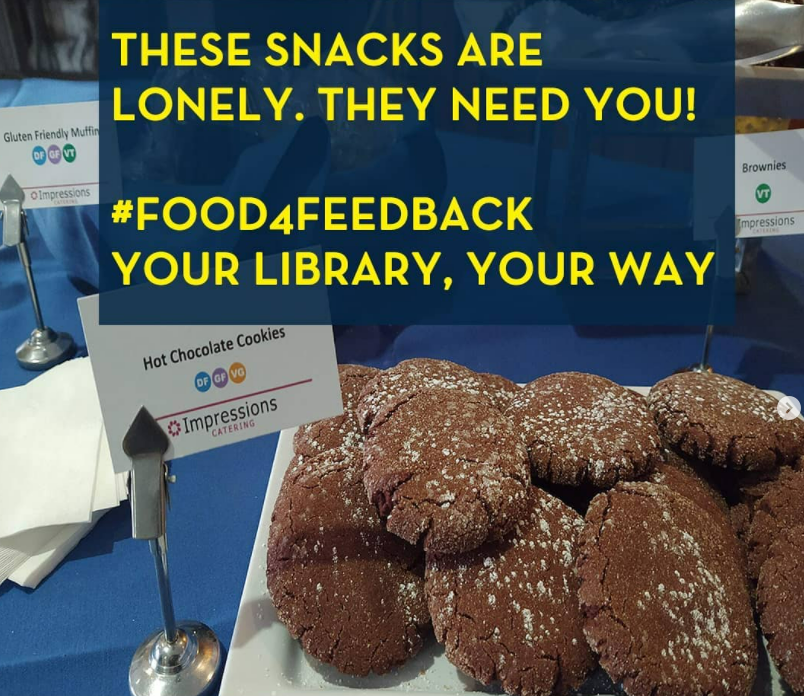 Two additional open forums were held by the Library in conjunction with Campus Auxiliary Services and the campus administration to gather input from students on a proposed Library move to Fraser Hall. Stakeholders wanted to hear what sorts of seating options and supplemental services students hoped to see in a long-term temporary library space in Fraser 203.